Our customer, a UK North Sea operator, sent us a tired old actuator and controls with a view to getting refurbishment and an upgrade to the latest DVC6200 design.
Linkages (to drive Positioner feedback) are slowly being replaced by 'Hall-effect' devices which provide continuous position feedback without a physical connection.
Below is a Before-and-after shot of the assembly;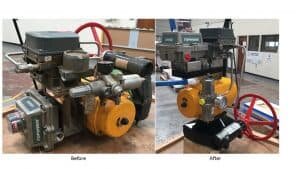 We upgraded from the old fisher DVC6000 series (with linkages) to the DVC 6200 series (Hall effect)
We also utilised a tandem mounting bracket which allowed the TopWorx DXS switchbox to be mounted adjacent to the positioner but using the same actautor input drive. This is necessary because the DVC6200 does not have integral limit switches as an option. The drive is manufactured in anodised aluminium with stainless steel drive shafts and gears..
The picture also shows the declutchable manual override gearbox which allows the valve to be closed should there be a power failure